AUTHORIZED RETAILER SERVING THE MODERN LUXURY SHOE ENTHUSIAST
Authorized Retailer
Authorized Dealer of many leading welted shoe brands
Customer Support
Dedicated customer service staff ready to resolve any purchase or product issues.
Quick Shipping
All Shoes are in stock and will be delivered to you within 10 business days
Unique Collection
We work with leading respected brands to provide the best selection for discerning collectors.
Your destination to become a shoe expert. Learn everything there is to know about the industry, from the newest brands, recent shoe sales, educational videos and more.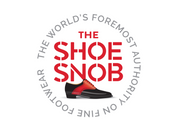 Meet Justin
Justin FitzPatrick is the author of The Shoe Snob Blog and founder/shoe designer for J.FitzPatrick Footwear. The Shoe Snob Blog is among the largest and most respected blogs on quality footwear and J.FitzPatrick Footwear one of the more exciting shoe brands of the industry. Making his start as an independent blogger, Justin has organically built The Shoe Snob Blog to be one of the world leading educational destinations for shoe enthusiasts. Justin's team of industry shoe experts and content creators serve a global community of 1 million shoe enthusiasts with videos, photo, and written content. Justin connects the modern consumer with the shoe makers of tomorrow